A Home for Salty
by Stephanie Stuve-Bodeen, Illustrated by Diane Adams
Published by the Friends of San Pablo National Wildlife Refuge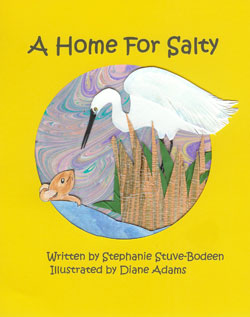 Salty is searching for a habitat; Salty is searching for a home. Join Salty as she searches for a home that is just right for her! Learn what a habitat is and how important it is for Salty to find the right one. You will meet other wildlife that live in habitats around Salty, so enjoy the adventure with Salty as she finally finds her home in San Francisco Bay!
A Home for Salty is available at the following stores:
Retail price $6.99 plus tax.
Don Edwards San Francisco Bay National Wildlife Refuge
Visitor Center
1 Marshlands Road
Fremont, CA 94536
510 792-0222

Don Edwards San Francisco Bay National Wildlife Refuge
Environmental Education Center
1751 Grand Blvd
Alviso, CA
408 262-5513

Point Reyes National Seashore
Bear Valley Visitor Center
1 Bear Valley Road
Point Reyes Station, CA 94956
415 464 5100 x2

Bookshop Store
856 Southampton road
Benicia, CA 94510
707 747 5155